Take full control
Set the Pace for Digital Manufacturing
The fast-moving world of digital manufacturing demands increasingly creative and ambitious material solutions. For the material industry, staying on top of the game requires adaptability, speed and customizability. Which happen to be the inherent traits of a desktop filament extruder.
Materials
Benefits of Extrusion
Explore
Rapidly experiment among different prototypes and materials
Reduce Lead Times
Shrink your lead-time from months to days.
Recycle
Reuse failed prints and make an impact on yourself and the environment
Benefits
Why choose 3devo in Polymers?
Customer Stories
Get Inspired
Make stronger, more flexible, less expensive materials for use in a multitude of applications. Learn how some of the biggest manufacturing companies are now incorporating filament extrusion into their production processes.

Audi Case Study
How Audi repurposed the excess amounts of plastic packaging, using 3devo's sustainable ecosystem, into 3D printed tools that assist their employees in their day-to-day tasks.
Read More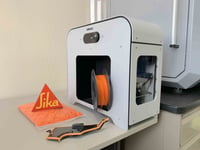 Sika Case Study
Sika Automotive is raising the bar for vehicle body-in-white component design. The Composer 350 Filament Maker is helping them design state-of-the-art acoustic parts through an efficient, innovation-oriented, in-house process.
Read More
What if your material production setup could save time and money, while also outpacing the competition? Switch to desktop extrusion to take control of your material development process and direct more business opportunities your way.