3devo Launches First Industrial Desktop Filament Extruders
by 3devo on Oct 21, 2016 4:41:00 PM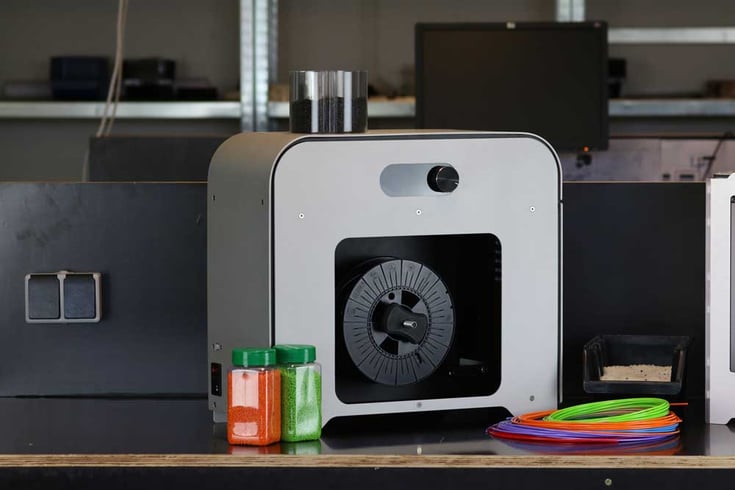 3devo has just launched not one but two

Industrial Desktop Filament Extruders, the 3devo NEXT 1.0 and 3devo Advanced

. Whereas there have been several notable maker made filament extrusion devices and there are many different types of large industrial extruders available, the 3devo machines are the first of their kind. The NEXT and Advanced put high reliability, repeatability and tolerances in a small form factor. For the first time a robust and reliable industry grade filament extruder device is available for your desktop. The NEXT Level and Advanced are the world's first Industrial Desktop Filament Extruders.

The 3devo NEXT 1.0 Next Level is targeted at makers, 3D printing shops and universities that wish to:

Lower the cost of 3D printing by a factor of 7 by using regrind or virgin pellets to make filament.
Wish to lower the environmental cost of 3D printing by recycling materials such as ABS or PET to make 3D printing filament.
Simultaneously lower the financial and environmental cost of 3D printing to approximately $1.25 per Kilo of material by using readily available recycled materials in house.
Have significant amounts of old 3D prints, unused 3D prints, missprints or old filaments that they wish to recycle.
Wish to experiment with creating their own filaments or making new 3D Printing materials.

The 3devo NEXT 1.0 Advanced has been specifically created for compounders, extrusion companies, researchers, plastics companies, universities and 3D printing companies who wish to:

Accelerate the pace of plastics innovation by allowing for cost effective small batch production of new grades, new materials or variants.
Increase the rate of plastics innovation by allowing for more experimentation at higher rates by placing a filament extruder tableside to the individual researcher.
Create their own grades or types of 3D printing filament.
Create their own grades or types of plastic or new plastics.
Produce up to 0.7 Kg of 3D printing filament per hour.

Both the 3devo NEXT 1.0 Next Level and the NEXT 1.0 Advanced:

Are manufactured in the Netherlands.
Have independent heating zones with independently set temperatures (3 heating zones for the NEXT and 4 for the Advanced).
Are built to last.
Have a Self-regulating filament diameter control system. (This lets you set the desired diameter and ensures for consistent output of the extruded filament).
A capacity of up to 0.7 Kg of material per hour.
A diameter sensor with 43 Micron accuracy.
Use high end materials and parts.
Have a hardened Nitrite steel extruder screw with compression zone.
Have been designed to supply variable torque at consistent RPM.
Have high precision RPM encoder feedback.
Have automated motor control.
An Extrusion diameter that can be set between: 0,5 – 3,0 MM
Have Hoppers with Built-in material level sensor (this lowers the risk of 'dry running').
A powerful cooling system for high speed extrusions.
Automatic spool winding.
An easy to use spool mount that can variably set for different spools.
Have an easy to use interface.
Have material presets for ABS and PLA.
Let you set and define your own preset materials settings as well.
Let you manually adjust temperatures and speeds on the fly.
Are stand alone devices that do not need a dedicated PC or separate control unit.
Have USB connection for data logging.
Have been designed to fit into laminar flow cabinets or under fume hoods.
Both systems measure: 506 L X 216 W X 540 H MM [19.9 X 8.5 X 21.3 IN]

The main differences between the Next Level and the Advanced is that the Next Level has 3 controlled independent heating zones and a maximum temperature of 350° C. The Advanced can go up to 450° C and has four controlled independent heating zones. The Advanced also has a mixing section built into the extruder screw. The Advanced has been designed for the extrusion of high temperature materials such as PEEK and other engineering plastics.

The 3devo Next Level costs €3,450. The 3devo Advanced costs €4,050 for the black powder coated variant and €4,200 for anodized variant (Prices exclude VAT). You can buy both filament extruders online from our shop or contact us should you need more information.

We believe that complex challenges demand elegant solutions. The 3devo family of Advanced Level (Industrial) Desktop Filament Extruders has been created because we believe that researchers, universities, makers, 3D printing companies and compounders should have access to highly reliable industrial grade desktop filament extrusion so that they can innovate faster.

By developing and manufacturing a filament extruder with high tolerances we can help academics and commercial businesses create new unique high performance engineering plastics.

Additionally, by letting manufacturers, 3D printer operators and 3D printing services use lower cost regrind and virgin plastic granulate we can lower the costs for 3D printing filament. By letting people develop and manufacture recycled 3D printing filament we help our industry reduce the ecological and financial cost of 3D printing in lockstep. We hope that this will push our industry forward by making more end use parts, more applications and more business cases possible with 3D printing. We see ourselves as an engineering company first and a start up second. We are a force multiplier for the 3D printing industry and aspire to be the engineers behind some of the most well regarded tools in your lab, manufacturing floor or workshop. We're 3devo, Pleased to meet you!