Why 2019 Is a Game-Changing Year for 3devo
by 3devo on Jun 19, 2019 12:53:00 PM

Since 3devo was officially found in 2016, we have come a long way. It has been an exciting journey full of mutual learning, innovation, and breakthroughs which is why we are proud to celebrate our three-year anniversary this month. So far this year we've celebrated our anniversary, several new product launches, and our first-time presence at one of the worlds largest expo for 3D printing in the United States — Just to list a couple of reasons why this year has been a game-changing one for us.

We are very proud to see how well our innovations are perceived within the 3D printing community which is why we are actively trying to expand our presence. The many 3D printing events we have attended have allowed us to exchange expertise with innovators, researchers and industry-leading experts.

So far this year, we have traveled the world to showcase our innovations in Russia, Finland, the United States, Spain, and France. In this blog post, we would like to share some impressions of the experiences we had in Moscow, Helsinki, Detroit, Bilbao, and Lyon.

Interplastica - Moscow, Russia

This exposition was a great opportunity not only for 3devo but for the whole industry to expand beyond the western economic area and to bring 3D printing innovation to a new market. It was great to see that even though Russia has been suffering under heavy sanctions for four years, numerous foreign exhibitors were attracted to showcase their latest innovations. We are happy that our account manager, Anton Komarov, got the chance to introduce 3devo and our filament making ecosystem to an exciting new market. Despite not having fully utilized the possibilities of additive manufacturing just yet, we believe that the Russian market will have a strong drive in the near future.

Nordic 3D Expo - Helsinki, Finland

Shortly after Russia, two of our account managers, Anton Komarov and Pedro Lima, headed to Finland to attend Nordic 3D expo, which took place from the 3-4 of April. This expo was the first of its kind in Scandinavia and Northern Europe to focus on 3D printing and 3D technologies. It was great to see a wide range of 3D printing professionals and enthusiasts, alongside other 3D technology companies, students and hobbyists.

Rapid TCT - Detroit, United States

The next stop on our journey was Detroit. We were proud to have participated at one of the world's most influential additive manufacturing events: The RAPID TCT which took place from the 21st – 23rd of May. More than 400 exhibitors from over 20 countries presented groundbreaking additive manufacturing technologies, provided interactive learning experiences and held inspiring keynote presentations.

Our 3devo representatives along with CEO, Tim Wesselink, gave live-demos of our filament extrusion ecosystem and got to engage with industry experts, discussing the latest 3D technologies.

The Rapid TCT usually gathers all kinds of participants whether that's businessmen, inventors, researchers or hobbyists, and it was therefore a great experience to bring all of our technologies to users across a whole wide range of industries. With two of our machines extruding PLA and other materials non-stop, our team was swamped by curious visitors with deep plastics and manufacturing knowledge. We hope to also welcome you there next year!

"It was great to meet so many people from the Additive Manufacturing Industry and to engage with experts that have advanced plastics and manufacturing knowledge." Tim Wesselink, CEO

ADDIT3D - Bilbao, Spain
Shortly after our team got back from the United States they headed out to attend the ADDIT3D in Bilbao from the 4th – 6th of June. This event was another great meetup of more than 1000 firms from 35 countries and 20,000 visitors interested in the latest developments of the industry.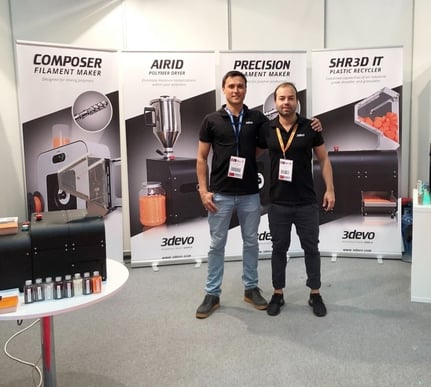 Our team, which consisted of Timo van der Laak (Material specialist) and Pedro Lima (Account manager), had a great time in Bilbao exchanging opinions, tips, tricks and future perspectives with hundreds of industry professionals. As many of our existing customers are located in the European region, this expo was a great opportunity to get to know each other personally and to foster relationships with the 3D printing community.
3D Print Congress - Lyon, France
While two of our 3devo representatives went to Bilbao, Anton Komarov (Account manager) and Louis Rinaldo (Material specialist) went to the 3D print congress in Lyon which also took place from the 4th – 6th of June. This exposition was particularly hands-on and allowed visitors to participate in workshops, conferences and innovation awards. Our team got the chance to interact with innovators from all 3D printing related sectors and exchange opinions with other material processing companies. Despite the 3D print congress with 4000 visitors being a little smaller compared to the other expositions, it was a full-blown success. We hope to get to see you there next year too!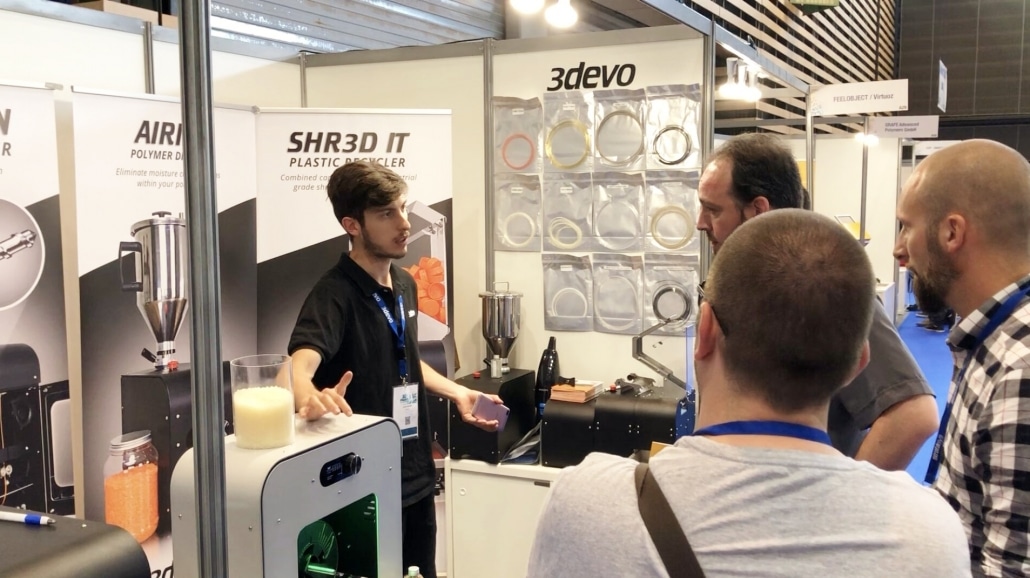 We Still have Upcoming Events!
So far, 2019 has been awesome for 3devo. However, we love to keep looking forward. Later this year, we'll be present at both the TCT in Birmingham and at the Formnext in Frankfurt. We'll be giving away tickets to those two conferences as the dates approach, so be sure to keep an eye out. We hope to see you there!