Plastic Shortage - What it Means and How We Can Overcome It
by 3devo on Sep 30, 2021 4:43:00 PM

Plastic is a material that has been used for decades. It is inexpensive, durable, and useful. It is also a major contributor to the global plastic crisis, which has been called the worst environmental disaster in human history by many environmentalists.
In this article, we will be looking at how plastic became so popular and why it's now having such negative consequences on our environment. We will also discuss what can be done to solve this problem before it's too late.
How the Plastic Shortage is Getting Worse
COVID-19
The Covid-19 pandemic, the subsequent lockdowns, and the ongoing movement restrictions to stop its spread have disrupted all manufacturing operations, including those deemed essential services. This has resulted in an increase in demand, more restricted supply as well as an increase in prices.
Weather
On top of all these barriers, weather changes that caused natural disasters across the globe hampered the entire oil, chemical and natural gas supply chain. Naturally, this hit the plastics manufacturing plans in various countries hard.
Increase in Usage
While these factors drastically reduced the production of plastic products worldwide, there has been an unprecedented surge in demand for plastic products.
The global plastic market size increased from approximately 502 billion U.S. dollars in 2016 to 579.7 billion U.S. dollars in 2020. It is forecast that the global plastic market will increase to a value of 750.1 billion U.S. dollars by 2028, at a CAGR of 3.4 percent between 2021 and 2028. (Statista, 2021).
The need for PPE (Personal Protection Equipment), food packaging, computer accessories (due to remote work and online education), and automobile components have grown tremendously in the past year and a half.
As a result, the imbalance in the supply and demand chain has increased the prices of plastic products and a severe plastic shortage.
The Future of Recycling Plastic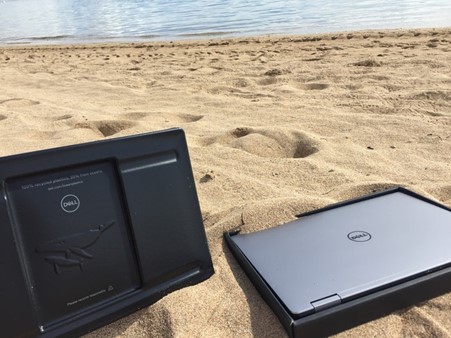 Dell has begun shipping its XPS 13 2-in-1 notebook in a tray made from 25% ocean plastic (via Packaging World)
Because of the plastic shortage we're facing, many companies have started using recycled plastic for manufacturing parts of their products as an alternative.
"By 2030, for every product purchased by a customer, we will reuse or recycle an equivalent product. 100% of our packaging will be made from recycled or renewable materials. More than half of our product components will be made using recycled or renewable materials."- Dell
For instance, Dell has set a goal of using recycled materials for more than half of their product content, and 100 percent recycled or renewable packaging materials by 2030. Acer and Lenovo also boast about the use of recycled plastics in their product. With this, we can expect more companies to follow suit.
As the price of virgin plastic increases due to the factors above and the cost of recycled plastics is always higher, companies urgently need cost-effective alternatives. Though there are alternatives to plastic like steel, glass, paper, wood, fiver cloth, etc., they are either not durable or not cost-effective. Besides, it would be like comparing apples to oranges. Plastic has advantages that are missing in these alternatives.
Potential Solutions for Assisting the Plastic Shortages
New Chemical Catalyst for More Feedstock Production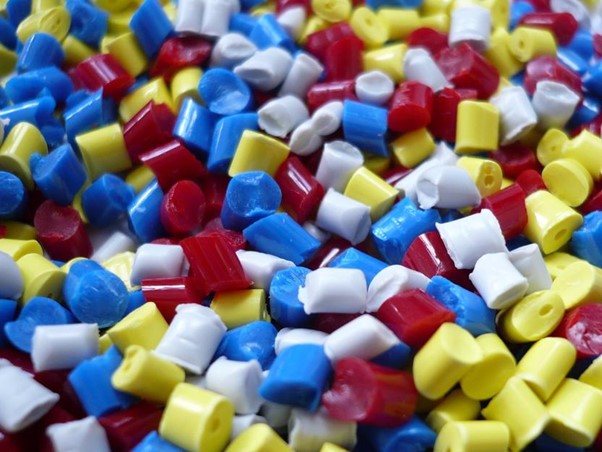 A new catalyst from the University of Michigan hopes to aid in feedstock production (via Chemeurope)
Research is underway to identify new chemical catalysts that enable the faster product of feedstock, i.e., raw plastic materials. A noteworthy point is the development of a new chemical catalyst at the University of Michigan, which claims to produce propylene, a feedstock for polypropylene plastic, efficiently. The chemical catalyst is expected to be at least ten times more efficient than current commercial catalysts.
"So there has been a push to find a way to efficiently produce propylene from propane, a component of shale gas. This catalyst achieves that objective." - Suljo Linic, Professor of Chemical Engineering, University of Michigan
Though this new catalyst is a ray of hope for the raw plastic shortage, it would need a considerable investment to create the catalyst on a large scale. Besides, considering it's in the research stage, the catalyst is still far from commercial use.
Catalysts such as these hold the possibility of sustaining the world's propylene supplies. However, it isn't happening anytime soon, and it's not practical to wait for this solution. So, here is another pragmatic solution for companies to implement right away.
Creating New Plastic Parts from Waste
The best solution for this critical issue of the plastic shortage is for manufacturers to create new plastic parts from their plastic waste to decrease the price substantially. This solution may sound sophisticated, but it is feasible.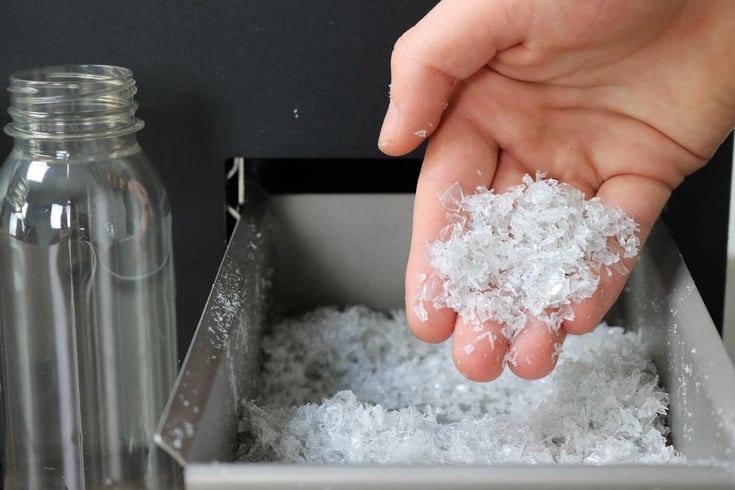 Shredding plastic – an alternative to creating new plastic parts
The best solution for this critical issue of the plastic shortage is for manufacturers to create new plastic parts from their plastic waste to decrease the price substantially. This solution may sound sophisticated, but it is feasible.
Products are readily available to pursue this approach. For example, a plastic shredder can shred plastic waste down in size; the regrinds can be used in 3D printing or injection molding applications. Then, you can use a plastic dryer to remove excess moisture from the shredded plastic; this is a crucial step to ensure that the shredded plastic performs at its best.
Finally, filament makers turn the shredded plastic into filament, ready for 3D printing applications. Alternatively, you can use shredded plastic as the raw material for manufacturing your plastic products.
It sounds simple because it is! We've successfully recycled plastic into quality 3D printed objects and have assisted in Audi's latest upcycling pilot project to reuse plastic packaging and turn them into useful 3D printed tools to be use on site.
Whether you procure raw or recycled plastic, this solution removes such dependency on other companies and makes your company more autonomous.
It's high time that all companies embrace this change and start creating new plastic parts from their waste, not only from a sustainability standpoint, but also to become more independent and increase their bottom line.