Should You Buy a Filament Extruder?
by 3devo on Sep 4, 2015 11:32:00 AM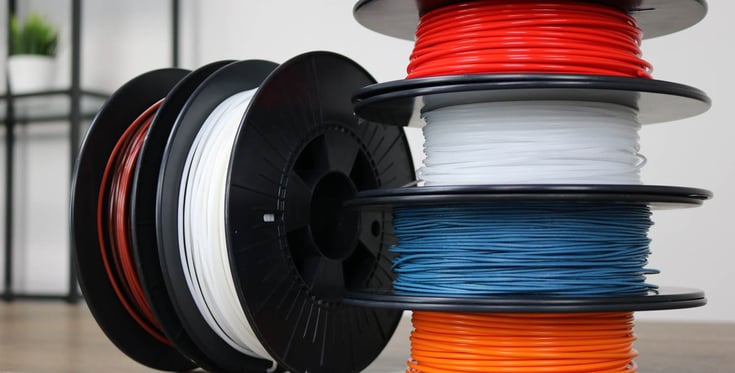 If you enjoy 3D printing and often make a variety of prints, your filament choices are probably becoming more and more important. The best quality brand, the best filament type for your prints, the best deals you can find and the quality of the filament all play a big role in choosing your filament. However, there is now another choice that is becoming increasingly popular – to buy 3D printing filament or simply make your own using a filament extruder. Depending on who you are filament extruders could make sense for you or your business. Should you buy a filament extruder? This article is will guide you through the questions you need to ask yourself before making that decision.

Filament Extruders – A Short Introduction

Until recently, desktop filament extruders were only a myth. Everyone, unless you were a 3D printing Yoda, had to buy filament from local stores and order online. Industrial filament extruders have always been around, else how else would manufacturers and retailers sell your filament?

Yes, these are the best pieces of equipment you could ever own if you enjoyed 3D printing, but not everyone has thousands of dollars lying around and an extra garage to place the Death Star-sized machine. But then desktop filament extruders came along and changed a lot of people's minds. You now have the option of creating filament right there, on your desk, like a baby Luke Skywalker using his Light Saber to melt away pellets into a neat filament coil.

You see, a filament extruder allows you to produce your own filament for your 3D printing needs. I mean, the concept sounded only natural to say the least. Why do you buy a 3D printer? – So that someone else doesn't have to do it for me. However, filament extruders are a little different, and below are some factors to help you decide.

With filament extruders, you buy a bunch of pellets, throw them into the machine, and within minutes you'll have some fresh, clean filament to use for 3D printing. It's like having a 7/11 outside your house – if that 7/11 sold pre-heated gourmet food. The convenience factor is a tough one, though, as many people find it easier to simply drive to their nearest store that sells filament.

Time To Buy –

If you find yourself in a constant struggle with having the wrong filament, your filament is old, or your don't have time to order some new stock, then a filament extruder may be for you.
Stay Away –

If you've been buying filament from the same place for years and trust your filament brand, or you have enough filament to last you for some time, then buying a filament extruder may not be the best option.

Price

Now this will vary according to the filament you buy, and the filament extruder you are thinking to buy. This is actually split into three choices ranging from buying a filament extruder, making your own filament extruder or just carrying on with buying your regular filament. I'll help you out a bit with determining if buying a 3D printer will be a cost-effective alternative.

When you buy filament from a store it is naturally more expensive than making your own, as you don't have to factor in rent and business operating costs when making it at home. However, and this is the BIG 'however', making your own filament means that you'll either have to buy a seemingly expensive device or troubleshoot your way if building your own.

This will vary depending on the type of filament and extruder you want to buy.The graph is just a simple indication of the money you'll save once you have purchased your filament extruder. However, this doesn't mean everyone will save.

Time To Buy – If you've used my rough template or something similar and found that after a while making your own filament is more cost effective, think about buying one. It's initially somewhat expensive, but if you do a lot of printing, need specific colors (see below) or a combination of all the factors in this article, it may be your best purchasing decision yet (besides your 3D printer, of course).
Stay Away –

After using my rough template, if you find that you don't buy a lot of filament, or you're able to find great deals, then a filament extruder won't be for you.

Customization

One of the great benefits of buying your own 3D printer is that you are in control. You decide what components go where and what your overall print will look like. Remember, you are making the filament. Whether you're a university student that wants to include some type of nanomaterial into the filament, or a new company that wants to make a skin-friendly prosthesis filament, the variety is immense. Currently, you only have limited options to achieve this. Either you use industrial experimentation (very expensive), hire a lab extruder (not that much cheaper), or choose a filament extruder.

Time To Buy – If you enjoy mixing colors or want to create your own type of filament, then a filament extruder can be a good option. It's great if you're an artist, designer, or someone wanting to push the boundaries of what your store-bought filament is capable of. Some

extruders offer better methods to analyze material properties, so take this into account before making a decision.
Stay Away –

If you're not fussy the color you use for printing, then continue with your regular filament. Yes, it may be great having the options to choose what type of filament you want to use at that moment, but if you've been happy with the results so far, then outlaying a lot of money for a filament extruder might be a bit extravagant.

So, Should You Buy a Filament Extruder?

3D printing for most is truly an enjoyable experience. However, your filament requirements need to be met first before getting settled. For some, buying filament from the local store or online is just easier. But, and many 3D-printing enthusiasts will understand this, it's all about being in control. The topics above will help you narrow your decision down and hopefully lead you into buying your first filament extruder, or, if the case may be, save you a lot of time and unnecessary costs.