(Beta Version)
DevoVision
Visually understand your material, experiments, and production.
DevoVision takes desktop-extrusion to a whole new level. Now, it's possible to analyze your industry-quality filament in real-time through software integration. Simplifying your workflow while maximizing productivity.
A seamless, all-in-one, integration
DevoVision provides a seamless, integration between your Filament Maker, software and the desired materials you wish to process.
Real-Time Insights
Watch your filament in real-time – allowing you to make immediate adjustments.
Real-Time Insights
Your Own Workspace
Visualize the clear presentation of what is going on during your extrusion through your workspace.
Your Own Workspace
Take Clear Notes
Look back on your successes, lessons learned, trials and tribulations.
Take Clear Notes
Public Network Display
See your extrusion progress from other screens connected to your local network.
Public Network Display
Visual Extrusion Overview
Receive real-time data of constant measurements displaying filament thickness, extruder RPM, puller speed, current filament length and mass, and other settings — all happening simultaneously.
Achieve Perfection
Our application shows an overview of your extrusion history, allowing you to compare previous extrusions to find the settings that work for your application. You can say goodbye to having to estimate and predict certain setting – Now, you simply can retrieve old logs and replicate the same outcome. Desktop extrusion has never been easier.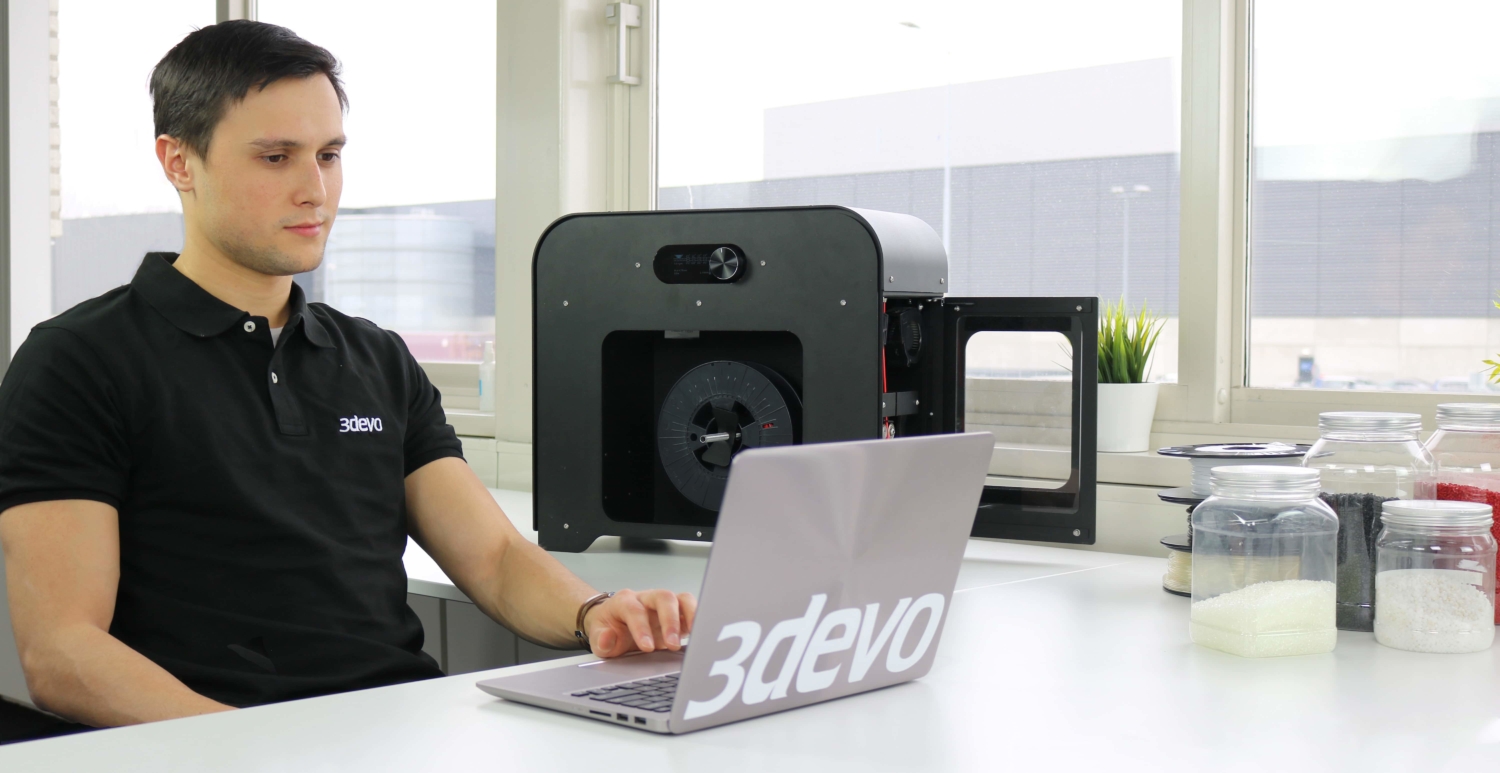 Provide Quality Assurance Over Your Filament
The data history shows deviation patterns and the overall health of your filament. Providing a clear understanding of the relationship between settings and outcomes is at the heart of the application. DevoVision means less downtime in experimentation and more time implementing findings in production.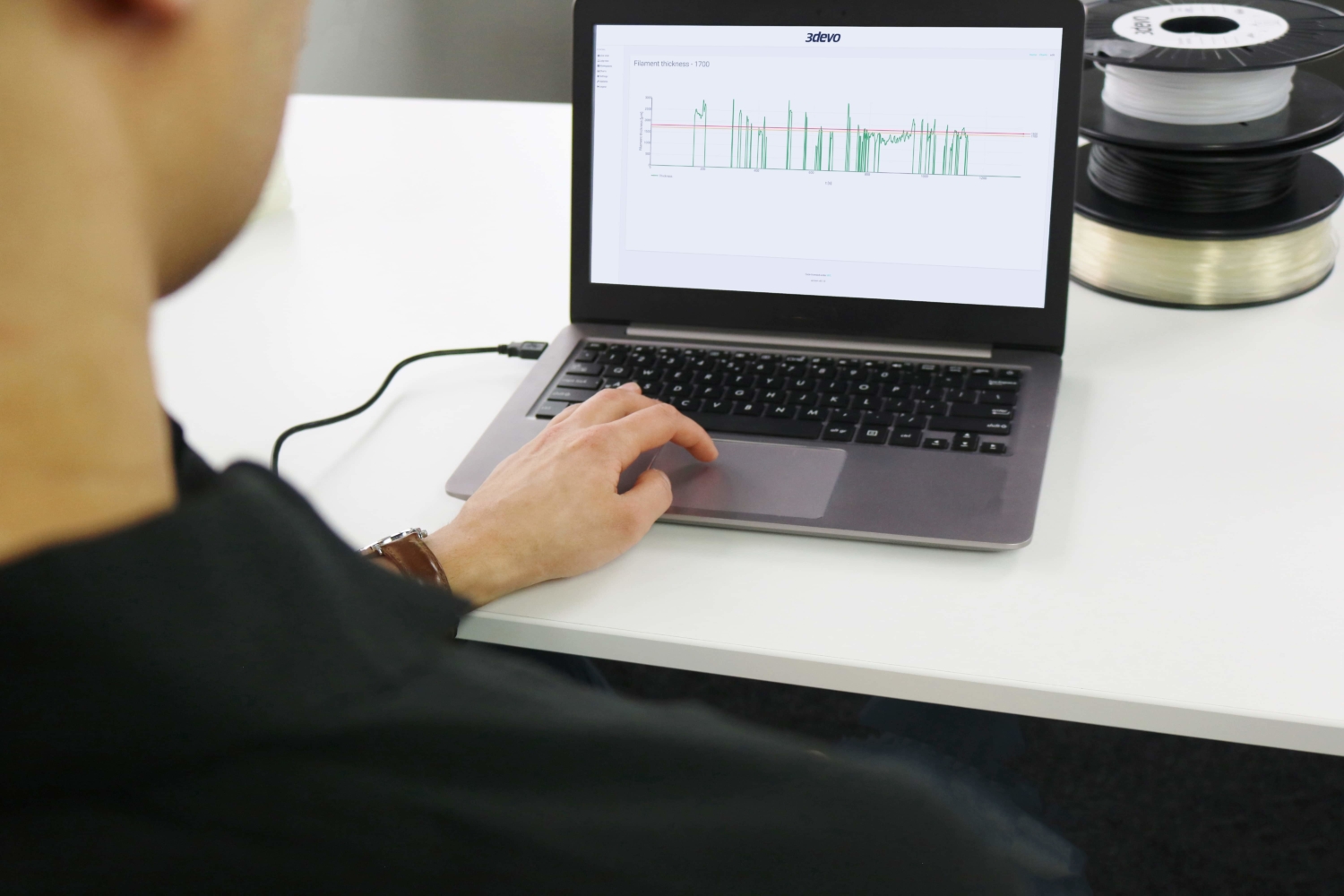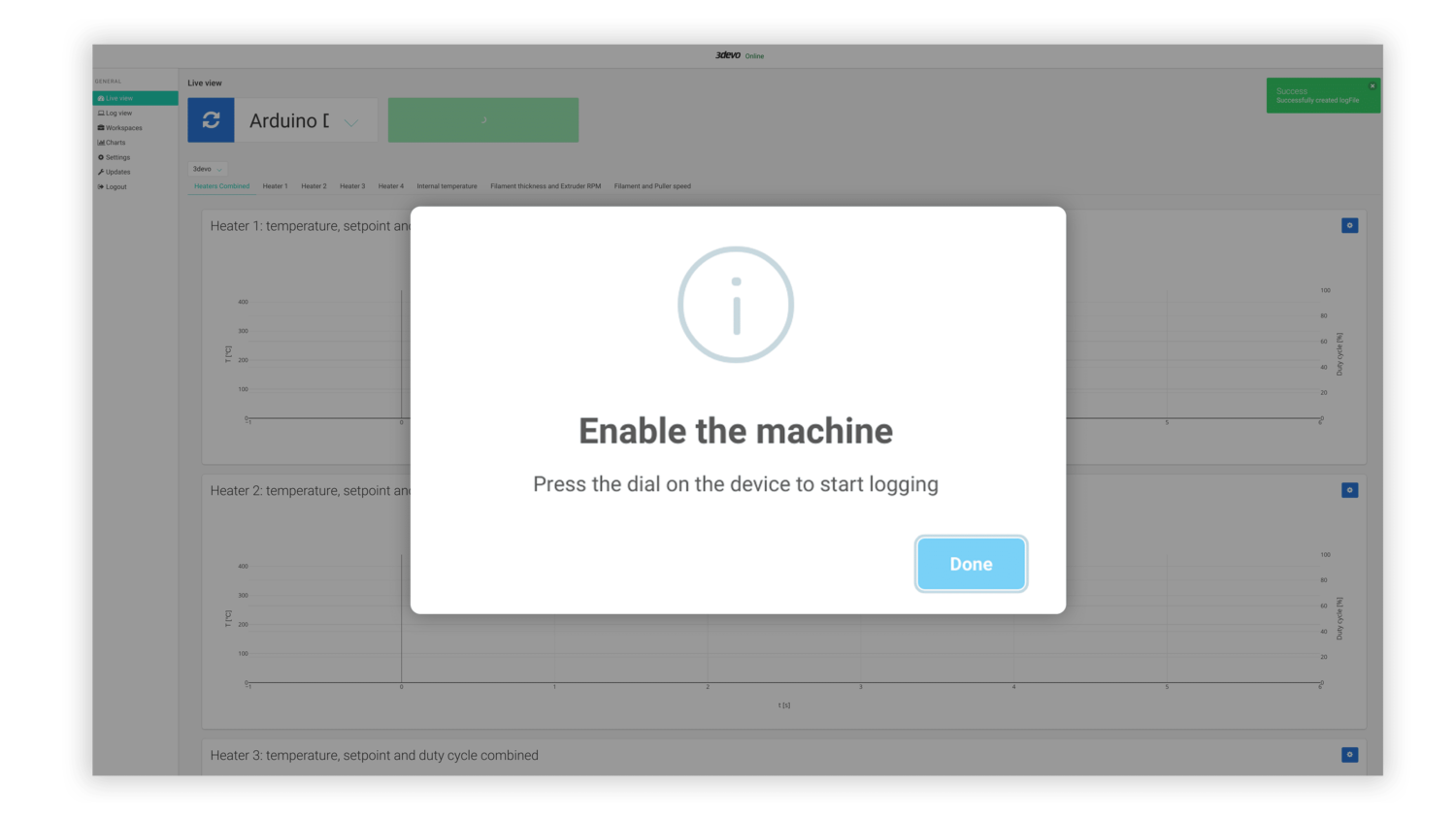 Get Started Instantly
This one-time seamless installation process will have you ready to go as soon as you unbox your filament maker. You'll immediately be able to jump right in and get started logging your extrusion.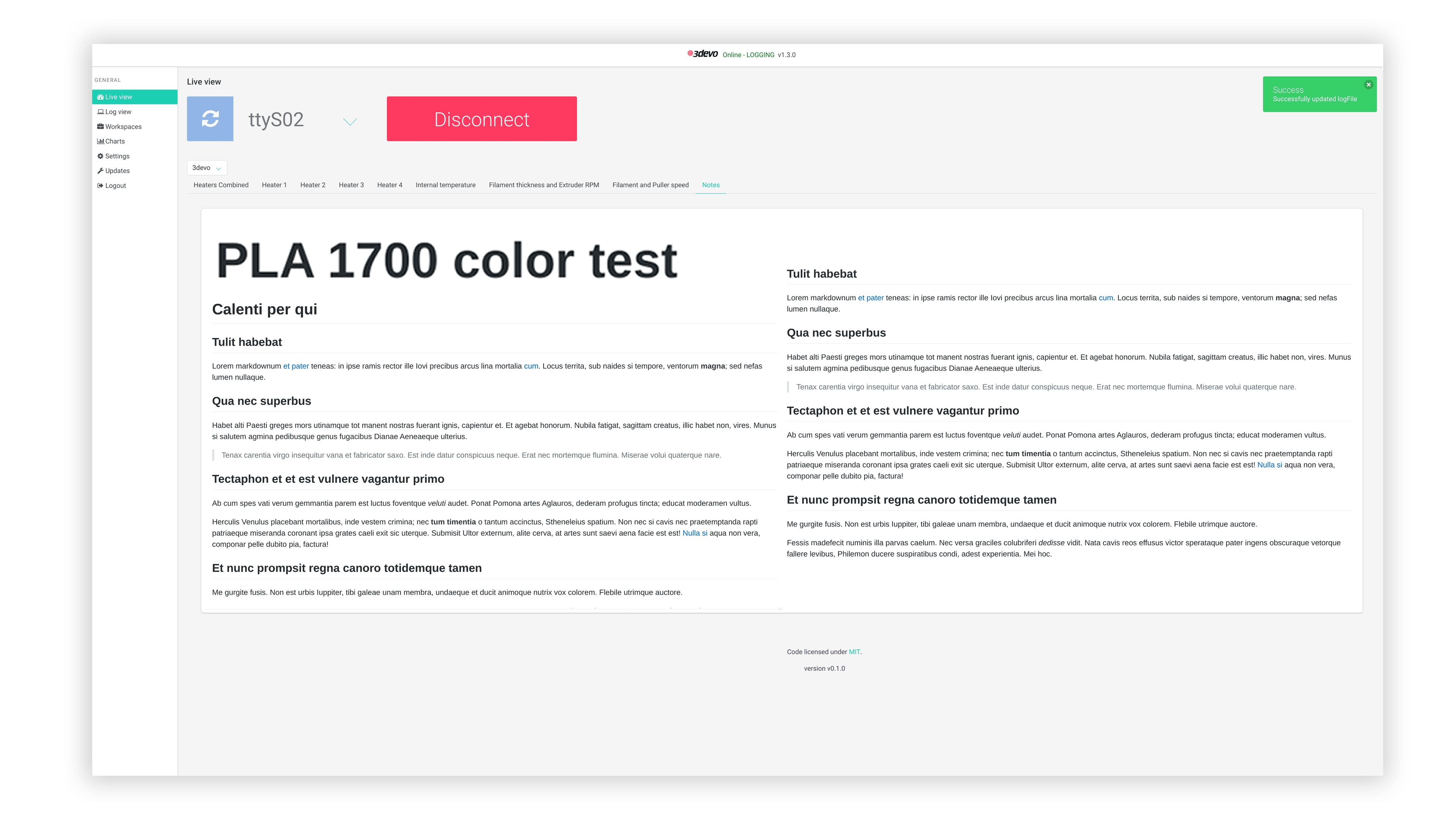 Document Your Progress
You might come across complications with your extrusion when working with new materials. And that's okay —it's simply part of the experimentation process. Thats why we feature a note section. This allows you to annotate the graph as you extrude. Having a place to store your thoughts during experimentation means you can pinpoint a cause and effect between settings and output.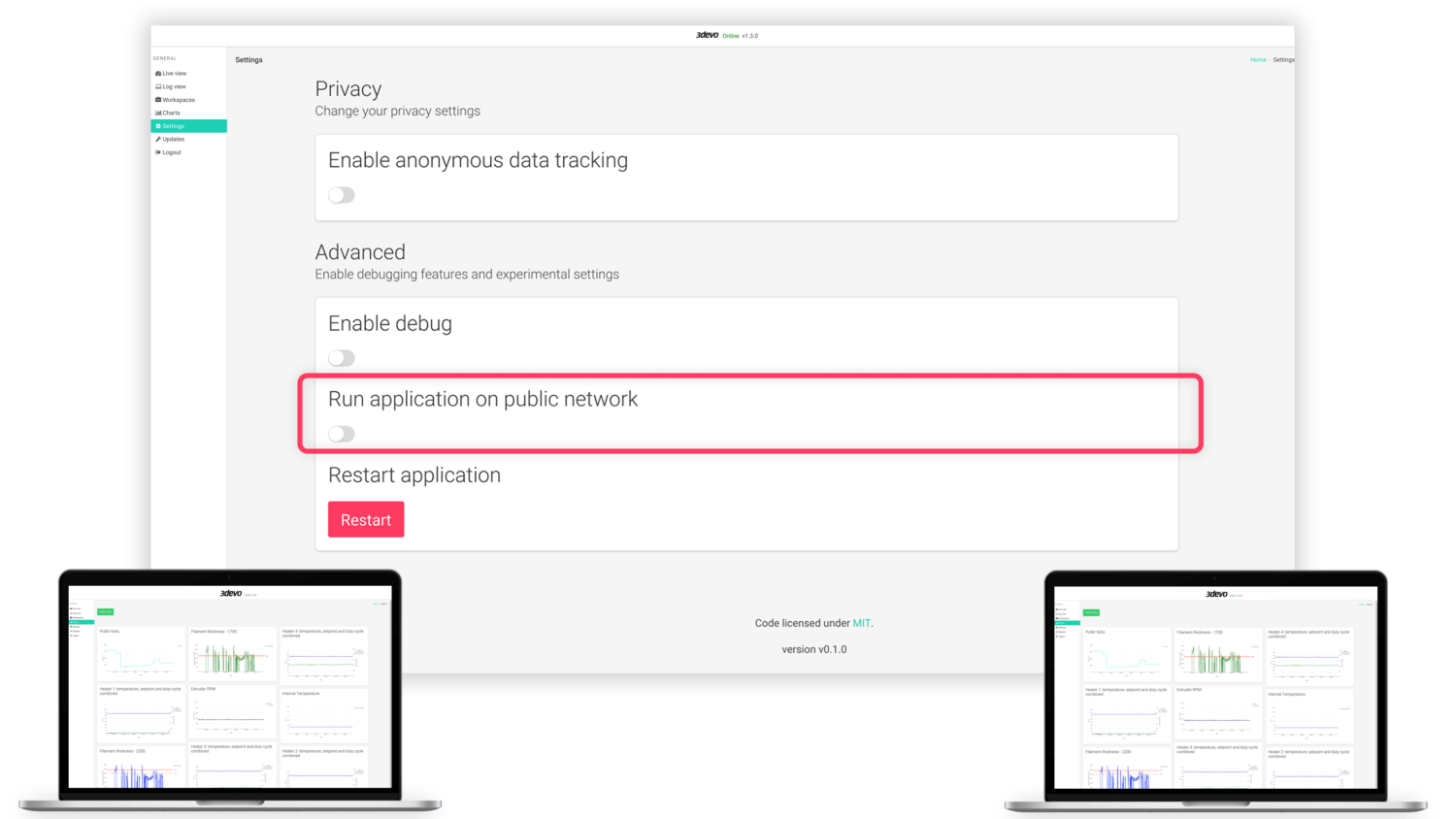 Multi-Screen Capabilities
See your extrusion progress from multiple screens within your network. Once you have perfected your extrusion setting, you can monitor your extrusion remotely. You can get on with new tasks while still checking in on your extrusion wherever you are on your network.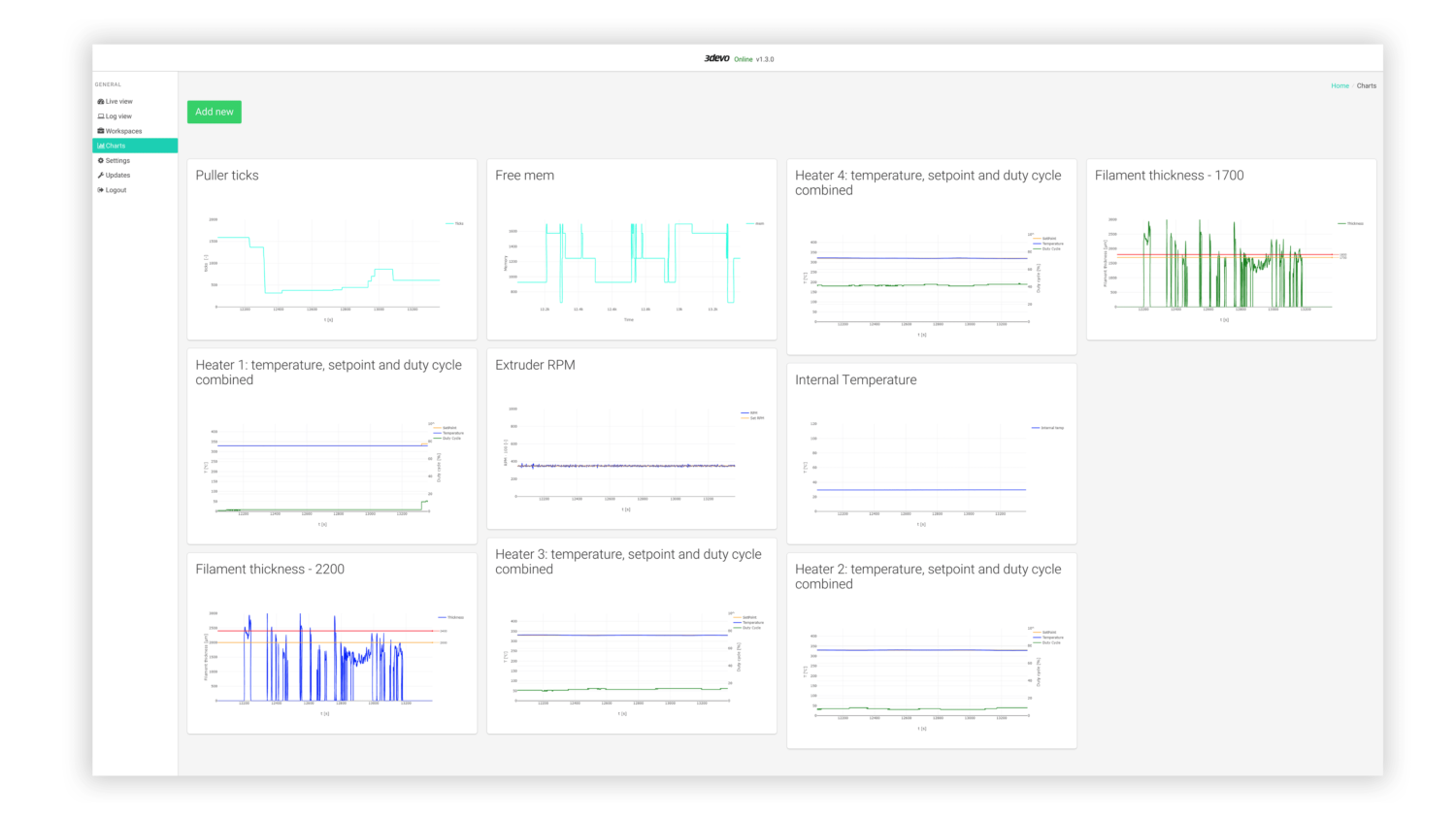 Customize the Data That Suits You
Our workspace displays a clear presentation of extrusion data through a dashboard-like view. You can personalize your workspace with charts that benefit you the most. You can create, clear and comprehensive charts in real-time so results can be demonstrated to others regardless of their extrusion knowledge.