Are you curious about desktop extrusion? 3devo can help! Finding the best solution for your needs
When you're on the hunt for a filament extrusion machine, the selection can be overwhelming. There are a lot of things to consider before making your purchase including the machine size, produced quality and capacity, after sales service, price etc. Our guide will help you understand the different types of filament extrusion machines available in the market.
1.
The size matters
When it comes to filament extrusion machines the size does matter. From bulky industrial-size machines to desktop compact solutions, you need to first specify the available space for your case. The main advantage of small and compact solutions is that they can be placed everywhere – starting from a small lab to a regular desk. On the contrary, larger solutions often need a dedicated room for them.
2. Quality or Quantity?
The quality of the extruded filament depends on many factors (temperature, extruding speed, etc.). Quantity of the produced filament is usually inversely proportional with the quality of the filament. That means that you need to ask yourself the right questions before you make your decision. How much filament do you need per hour? Will you use this filament for 3D printing, research purposes or both?
3. The Ease of use
Filament extrusion is not always a matter of click of a button. There is a learning curve that can be stiffer or more linear depending on the solution you use. That includes both the production of the filament but also the purging and maintaining of the machinery. It is important to have the right guidance through out your extrusion journey as this can save a lot of your time which then can be invested into other aspects of your project.
4. Define your budget
The choice of filament extruder comes down to your budget, your space, and your project's end goal. There are many options out there starting from just a few bucks all the way to the industrial size solutions that can cost several hundreds-of-thousands of dollars. It is important to define both your budget and your goal clearly so you don't pay for features you don't need and don't miss features that you'd like to have!
Great support
Our material specialists and extrusion experts offer great support to get you up and running in no time while teaching you the fundamentals.
Real-time Insights
When things aren't working, you want to have reliable data to back your extrusion tests. DevoVision is a point of reference to understand your extrusions.
All-in-one solution
You want to make filament, right? So why only buy part of a fraction of an extrusion line? We offer a complete filament production line.
Speed
With our all-in-one solution, you can get started right away. Less downtime and more time extruding at faster rates compared to alternative desktop extruders.
Affordability
You're after a tool that offers great results within a reasonable price range. We want to make it affordable for anyone to take initiative over their experiments.
Ease
You don't want to waste hours setting up and integrating different components. Move smoothly between different materials with a system that can handle modifications.
Industry leaders trust 3devo







But that's not all 3devo does …
3devo filament makers are great in isolation, but they become way more powerful when you combine it with our filament ecosystem— which includes a plastic shredder and polymer dryer. You now hold the power to take charge and close the loop of filament making. Take the initiative over your experiments with astonishing results.

No other tool does it all in the same place
That's the magic of 3devo: when you start extruding, you're not just extruding quality filament within tolerance. You get immediate access to material pre-sets, an online support platform, real-time extrusion insights through DevoVision, and a great support team to answer your material and extrusion questions —and they're all available to you right from the start.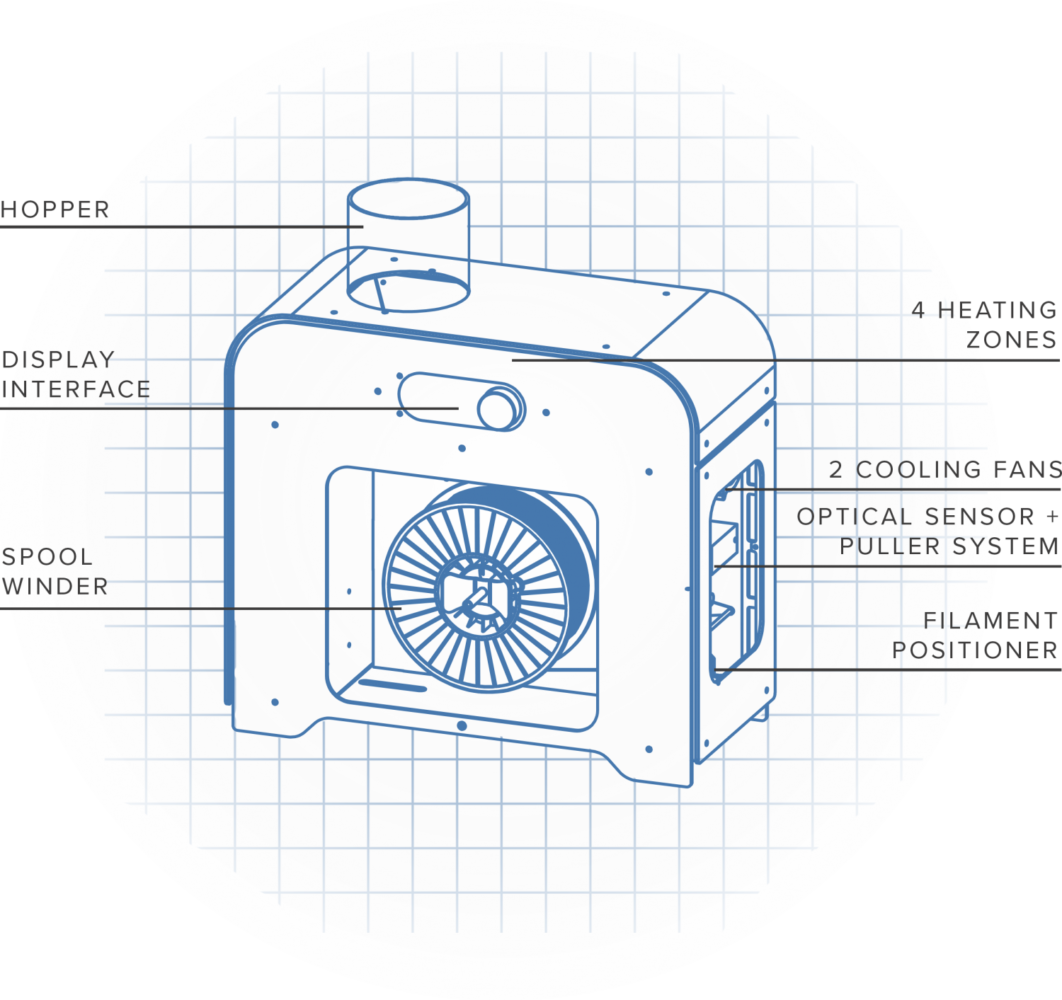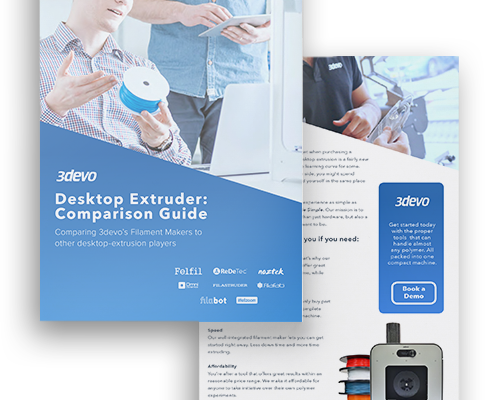 Let us show you why 3devo filament makers are the better option
Download the desktop extruder comparison guide