Ultimate Recap of Formnext 2022: What You Missed & What To Expect
by Stefan Karadzhov on Dec 2, 2022 12:33:00 AM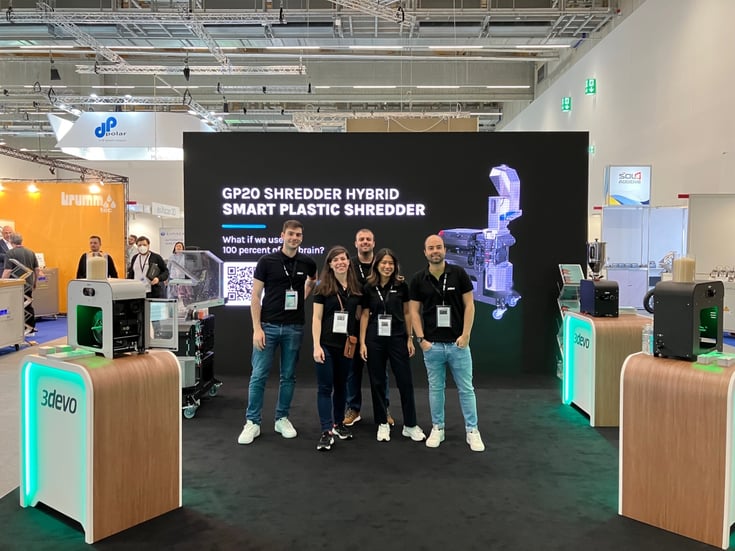 Picture this – it's the middle of November, winter is creeping in on us and the early signs of holidays have emerged, indicating that we are at the threshold of closing the cycle of the year. But not yet! The 2022 edition of Formnext ignited our hearts and kept us warm as we immersed ourselves in the world of additive manufacturing and industrial 3D printing. What a blast it was! And what an unforgettable experience for us at 3devo!
What is Formnext?
For those who have yet to dive into the industry, Formnext is the largest additive manufacturing event in the world to date. The city of Frankfurt holds the honor and privilege of hosting the convention every year, bringing thousands of players in the 3D printing industry from across the world together to enter discussions and share their knowledge, expertise, and insights with the industry.
This year, it managed to accommodate over 800 exhibitors (as opposed to just over 600 in 2021), all of which presented their Incredible innovations and breakthroughs. An estimated 29,581 experts, executives, visitors, and members of the press got together to share their passion for the world of 3D printing.
The event's gravity is not the only feature that was impressive. It laid the foundation for technological advancements, which penetrate countless industries (automotive, aerospace, healthcare, consumer, production, retail, etc.) and assist the production process in one way or another.
It is the perfect place to discover the direction in which we are moving as a society, including solutions to significant social, economic, and environmental issues among which plastic recycling and sustainability, research, resourcefulness, and more.
Why Formnext is Not to be Missed
An incredible surcharge in pellet printers could be seen at the 2022 edition of Formnext, as opposed to 2021. These types of printers (rather self-explanatory) use pellets instead of spools of filament in order to print. It is fascinating to see the direction, in which 3D printing is headed. Pellet printers are still an underdeveloped aspect of the industry, yet the benefits of those printers (as opposed to FDM) can already be seen.
To name a few, pellets can save up to 90% of costs (depending on the volume of your purchase), generate faster print speeds, larger print sizes, offer environmental benefits (you can chop up plastic that is simply laying around), and more.
On the contrary, due to its (for now) underdeveloped nature, cons can include limited print detail, increased potential for a print defect, lack of retraction (the prevention of oozing material) in most printers, etc.
Nevertheless, we are all impatient to see how that sphere of the industry will progress and innovate.
In other reasons why you shouldn't miss Formnext:
A. Knowledge is Power
When it comes to innovations, the minds in the 3D printing industry are always full of surprises.
Some of the most impressive innovations were revealed this year, each focusing on tackling issues related to the environment, healthcare, and society in general.
The most notable breakthroughs include:
Nozzles, Nozzles, Nozzles

The German startup LIQTRA introduced their FDM 3D printer that now consists of a minimum of 7 different nozzles on its print head. Each one can be controlled individually, which opens a vast range of advancements in the industry. This seemingly straightforward innovation improves productivity by 300%, quality by 37%, and reduces manufacturing time by 75%. The applications of this innovative technology are bound to penetrate multiple different industries with the value it adds to the process it will be a part of.

(Source: LIQTRA)




Regeneration With NO Foreign Cells

Next up is one of the winners of the Formnext Start-up Challenge. A biomedical start-up by the name of Lattice Medical introduced their patented 3D technology, with which they created bioprosthetic breast implants that are fully bioabsorbable and adapted to each individual patient's morphology. This incredible breakthrough in healthcare now presents the scenario where breasts are entirely reconstructed from the patient's own tissue. Undoubtedly a huge leap for healthcare!






Let a Robot Do It - Rivelin Robotics

Last but not least, the British start-up Rivelin Robotics revealed a solution to a widespread issue in most metal additive manufacturing applications. Rivelin Robotics, together with NetShape's software, developed an automated support removal solution that brings defects down by 90% and results in an end impact of reducing operational costs (including the elimination of risk for humans) down to 1/10th of the status quo. This breakthrough targeted the post-processing of AM metal parts, which in turn are present in every application across industries that have implemented metal AM in their production process.



(Source: Rivelin Robotics)


B. The World in 1 Place
It is overwhelming to imagine the levels that Formnext reached, yet fascinating to be a part of it. A total of 96 different nationalities gathered at the Messe Frankfurt halls to engage with the industry and contribute to their newly found breakthroughs.
Why is that important?
We were given the unique opportunity to not only engage with those 96 diverse cultures, but experience how those engage and interact with each other, revealing their own work ethics, businesses etiquette, technical differences in their business approach and more. Undoubtedly, a dynamic and nuanced setting with an impressive synergy between all participating actors in the industry.
C. Events Within Events
An amazing array of events took place within the "mother" event that was Formnext. Symposiums, presentations, challenges, seminars, and various other supporting events laid the foundation for innovators to gather and, well, share their innovations with the industry.
Events included, among others, the "BE-AM | Built Environment Additive Manufacturing," the Formnext Start-up Challenge, Discover3Dprinting seminars, the Pitchnext event, TCT Conference, and many more.
As you have noticed, the nature of the event is as dynamic as can be. Each of those mentioned and unmentioned events presented various aspects of the world of 3D printing. Some showed applications in specific industries, such as construction and architecture, medicine and healthcare, and more, while others showcased 3D printing for tools, prototyping, machine parts, and more.
From a stage for startups, to the future of additive manufacturing, to informal social events, Formnext had it all. From light talks, to discussions on decentralized additive manufacturing, the urgency for sustainability, and unseen innovations taking the spotlight for the first time ever.
We at 3devo Had a Great Time and Here's Why
As for us at 3devo, we did not miss the opportunity to set up shop, meet and greet, and engage in fascinating conversations that took us to the depths of the industry.
Our stand at Formnext featured all of the pieces for a sustainable 3D printing cycle – from the GP20 Shredder Hybrid, through the Airid Polymer Dryer, to our Precision and Composer Series Filament Makers. All of them a different part of a process that aims to provide even deeper insights into the world of materials and additive manufacturing.
With specialized applications in research & education, as well as industrial manufacturing, we provide the tools for in-depth analysis of material behavior and processability, combined with the opportunities to develop unseen before materials that could be a game changer for many businesses and research institutes across the board.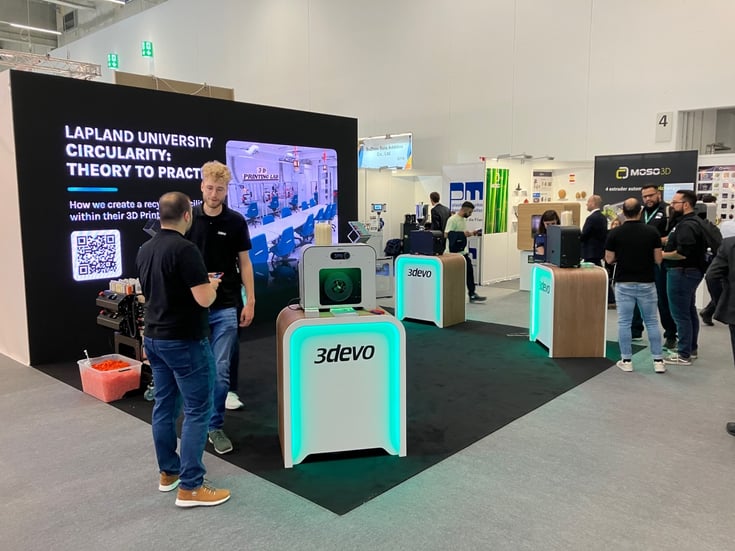 We enjoyed talking with various minds, each coming from different backgrounds, and in a different niche of the industry. We discussed all the opportunities we offer, and the paths we pave for them in the joint goal of manifesting innovative solutions to industrial additive manufacturing and material use.
Needless to say, it was beneficial
for both exhibitors and visitors to share their knowledge and expertise, and we proved once again that we stand as the right hand of the industry, supporting 3D printing technology by providing the solutions for the steps before that.
What's Next for 3devo and Formnext
As the end of the year is creeping in, we can safely say that it was a productive one for us at 3devo. Our team has shown immaculate progress, as a flawless execution of their cooperation, both internally and externally. With 3devo expanding, we are taking a step forward and expanding into 2023, with new minds joining us, ready to do their part in our joint race to ensure the best solutions for researchers and businesses alike.
As for Formnext, if you missed it for one reason or another, you could always prepare for next year, because the 2023 edition of Formnext is already in the making. Many innovations, an abundance of new technology, new ideas, and new mindsets are brewing, waiting to shine under the spotlight of Formnext. In the meantime, check out the official website of the event for any intermediary events and conferences that touch upon the progress of the industry.
To all the ones we had the pleasure to converse with, thank you! And to all those who we are yet to meet, we look forward to engaging with your fresh ideas and progressive thoughts!
Till 2023!