Filament Makers: Your Desktop Filament Maker Solution
Innovate 3D printing right from your desk
Introducing the New Filament Maker TWO
Experience the next level of desktop Filament Extrusion with 3devo's Filament Maker TWO Fusion and HighFlow Series. This cutting-edge device brings the power of filament production right, simplifying polymer processing and supercharging your 3D printing innovations.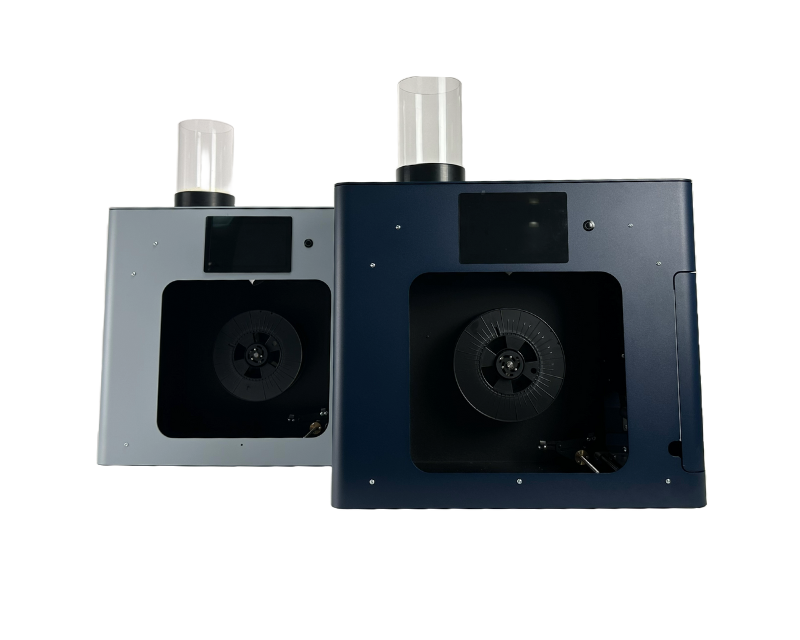 Unlocking 3D Printing Potential
Why Choose a Filament Extruder by 3devo?
Material Recycling
Transform your plastic waste and failed 3D prints into valuable resources. Our filament maker empowers you to create high-quality filaments right on your desktop.
Innovation and Support
We embody openness, aiding in your innovation journey. As your reliable partner, we unite with your team, leading projects to successful realization.
Research and Development
Boost your material R&D effortlessly and affordably. Start experiments with just 50 grams of polymer, achieving quick results and conserving resources.
Choose Your Filament Maker
---
Filament Maker TWO Features
---
Temperatures
With temperatures up to 450°C, our filament Maker TWO can process a wide range of materials
Temperatures
Diameter Range
The Filament Maker TWO has a refined diameter range of 0.5 – 4mm Ø, thanks to an advanced automated control system.
Diameter Range
Extruder Screw
Experience the durability of Nitride-hardened screws crafted for an industrial-grade lifespan that meets innovation demands.
Extruder Screw
Heating System
A multi-zone heating design with 4 separate zones provides unparalleled control and uniformity in material processing.
Heating System
Materials Mixing
The optional material mixing section further extends the capabilities of the Filament Maker TWO, allowing for unique material combinations.
Materials Mixing
Connect
Stay updated and informed with regular firmware enhancements and the ability to analyze real-time extrusion data.
Connect
A LEAP IN PRECISION FOR 3D PRINTING FILAMENT
Advanced New Sensor
Advanced Vision-Based Diameter Sensing.
Camera-Assisted Filament Calibration
Real-Time Visual Diameter Inspection
Enhanced Accuracy with 3-axis design

Improved optics reduce interference from ambient light
This compact, intelligent sensor system is designed for the highest standards in filament quality, perfect for innovators in technical and educational fields.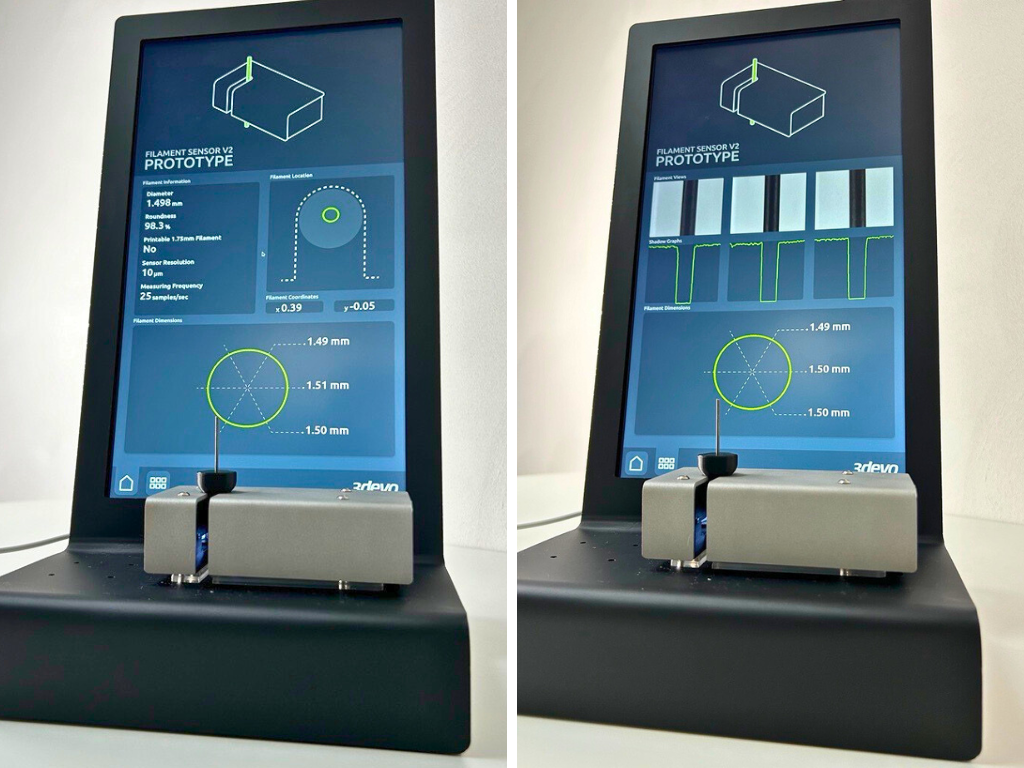 Extruder Screws
Unleash material mastery with our new Filament Maker TWO Extrusion Screws
Intuitive Operation and Maintenance
User-Friendly Design: Intuitive process for easy operation and simplified spooling.
Modular Components: Quick-release parts for hassle-free cleaning and maintenance.
Enhanced Insulation:

Removable insulation with Velcro.

Optimized Cooling: A controlled hopper cooler ensures stable extrusion temperatures.
Precision Monitoring: In-built temperature monitoring for consistent output.
Efficient Spooling System: Features a Tensioner Arm Swing for perfect winding.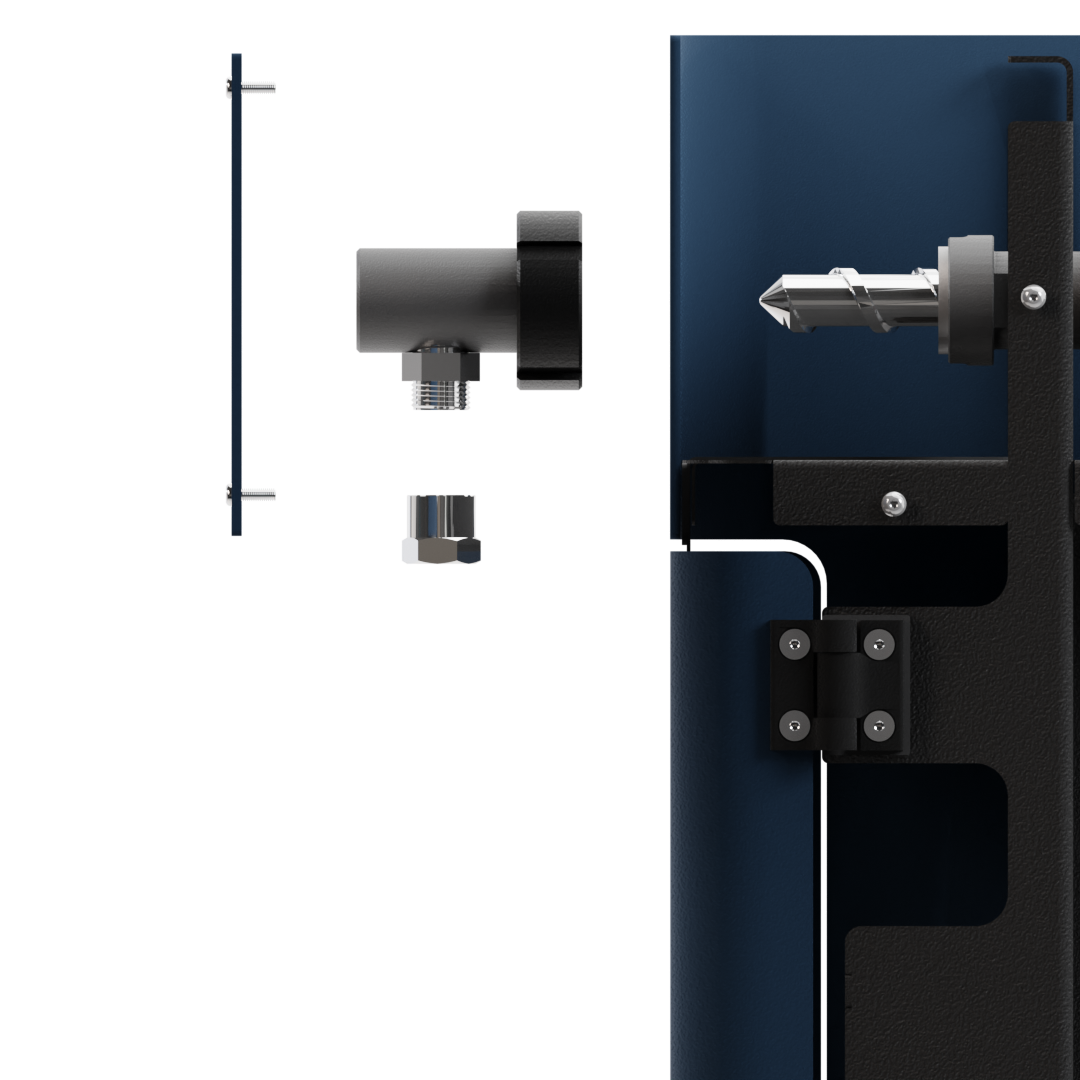 User-friendly and Easy to control
Experience user-friendly control with the New Filament Maker TWOs. Unlike previous models with an OLED display and a single control button, the newest models feature an embedded 7" LCD touchscreen for effortless access to all filament maker functions.
Connect your filament maker to your computer via USB to receive more data during your experiment and keep your machine updated with the newest firmware.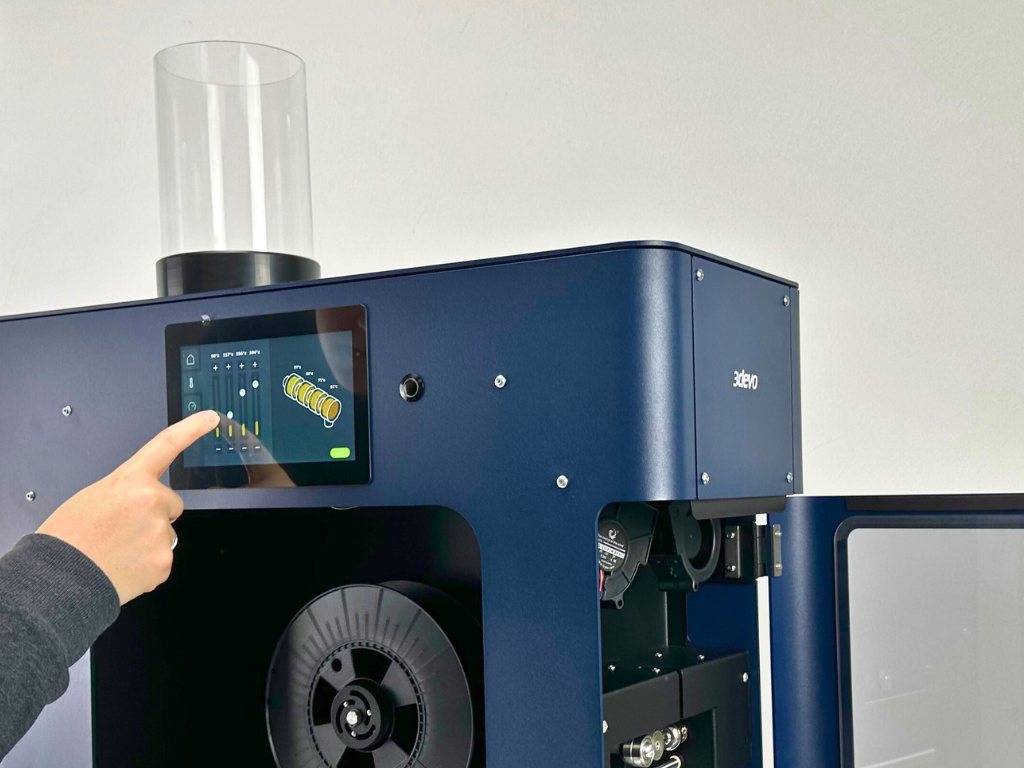 Filament Maker TWO Fusion
Fusion Models
Filament Maker TWO HighFlow
HighFlow Models
Filament Maker Precision
Precision Models
Filament Maker Composer
Composer Model
OLED display and a single rotate-and-push control button
OLED display and a single rotate-and-push control button
Integrated Feet
Standalone feet add a stable base to the Filament Maker, enhancing steadiness and reducing vibrations for better filament quality. They also allow for easy relocation, improve access for operation and maintenance, and protect the device from potential surface damage.
Stepper motor
Stepper motor
DC motor
DC motor
Insulation Material
Covers the barrel and the heaters
Removable insulation with Velcro
Removable insulation with Velcro
Fiberglass insulation with zip ties
Fiberglass insulation with zip ties
3 axis
3 axis
1 axis
1 axis
The Filament Maker TWO elevates your spooling experience
Precision Spooling with Enhanced Flexibility
Swappable Spool Mount: Easily switch between spool sizes for maximum flexibility, accommodating a broader range of spool dimensions.
Customizable Spool Parameters: Set specific spool dimensions directly on the device to achieve perfectly sized and neatly wound filament spools every time.
Automated Tension Control: The new tensioner arm automatically adjusts the tension, ensuring consistent winding without manual intervention.
Increased Spooling Area: Expanded room for spooling allows the use of larger spools, broadening your capacity for uninterrupted filament production.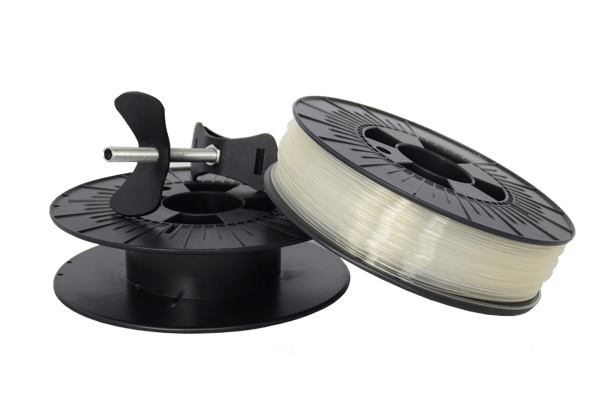 Create your own 3D printing materials
with our Filament Extruders
Compounding
Create exciting new filament composites with materials like glass or carbon fiber
Compounding
Homogenous Blends
Use the Filament Maker TWO Fusion (with the built-in mixing section) for homogenous material blends
Homogenous Blends
Custom Colors
Incorporate colorants of your choice to design colorful filaments.
Custom Colors
Enhanced Properties
Infuse your filament with metallic powders or other functional additives to achieve specific performance characteristics
Enhanced Properties
Quality Control
Assure the consistency and quality of your custom filament with our precise extrusion technology, ensuring reliable printing results every time.
Quality Control
Flexible Formulations
Experiment with a blend of pre-compounded materials or mix your own for custom-tailored properties, suited to your project's unique demands.
Flexible Formulations
Take your 3D Printing to another level.
Get your own Filament Makers
Crafted with precision, our filament maker kit allows you to produce your own high-quality filament at home. Investing in a filament maker kit today enhances your creativity and saves on materials.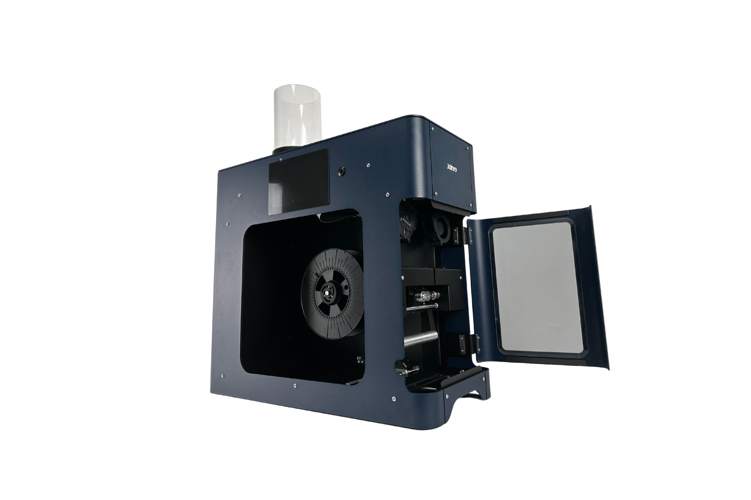 Read More about Filament Innovations from our Blogs: