2023's Top 10 Sites For Free 3D Printing STL Files
by 3devo on Mar 17, 2022 11:34:00 AM

Have you decided to take the jump and buy a 3D printer? Or maybe you've been considering, and are looking for more details as to how it can benefit you?
Well, there comes a time where you have all the knowledge and resources for your 3D-printing activities, but no time when it comes to designing or redesigning your STL models. Luckily, you can download free STL files from a variety of great sites. Most are free while others offer their work for a price. Some even have the option to order the model to be printed and then get it sent straight to you!
The best part about these STL file downloads would be the sheer variety available as 3D-printing has gone mainstream. Below is a list featuring some great sites that we use to find free STL models. Enjoy!
Our Top 10 Free STL File Sites

Set up in 2012 to build up a community-based 3D model online repository, this French-based site has grown to offer both free and paid downloads. It was among the first to offer models created with any of the major 3D creation tools, further supporting VR and AR on compatible hardware. This site is easy to navigate using the search feature and to better navigate through the sheer volume of STL files available, they have been grouped into convenient categories. Be warned that you may end up spending more time at this Sketchfab site than you may have planned to as there are just too many choices offered.

GrabCAD is not your typical place to just download free STL files for 3D printing. It has many CAD models, many of which are also available in STL format. You can download 3D models in other formats and also try to convert them into STL files for 3D printing, but you may experience trouble with more complex ones. The Resource area is great, giving you access to tutorials, case studies, and even helpful e-books. It also features the useful GrabCAD Workbench tool. It's a very popular site with many interesting models and resources available so do check the website out soon.
Once owned by Google,
SketchUP 3D Warehous
e is the go-to place for all your 3D model needs. Laying claim to being one of the largest 3D model online depositories, with over 4 million free downloads available, this site is easy to navigate using the search feature. To better navigate through the sheer volume of STL files available, they have been grouped into convenient categories. The site has also just released a handy feature that gives users the option to have the SketchUp models they upload
automatically converted to STL
. Be warned that you may end up spending more time at SketchUp's site than you may have planned to as there are just too many choices offered.

Operated by the popular Makerbot, one of the leaders in 3D printers, Thingiverse provides access to a huge variety of 3D models as well as a knowledgeable community. You can find many 3D models that you can download for free in STL format, and new models are added daily. The only drawback, though, is not all the models are available as STL files format, therefore not fully optimized for 3D printing (some editing may be needed). This doesn't happen often, though, and the site is definitely worth a visit.

Don't be put off by this pages clean UI and high prices on the homepage. The site is managed by iMakr, so you don't have to worry about the lack of quality models that the site has to offer. All the objects are curated, meaning that "every object uploaded on MyMiniFactory has been test-printed on desktop 3D printers." Simply type "free" in the search box and you'll get instant access to some rather impressive designs. Still going strong since its 2013 launch, MyMiniFactory aims to be the YouTube of 3D files.
Revolutionize Your 3D Printing!
Transform your 3D printing experience with Filament Makers' Composer and Precision Series. Create filament at your desk with industrial-grade power. Enjoy precise control, wide material compatibility, and easy customization. Upgrade your 3D prints today!
3DfindIT.com is the next dimension visual search engine that crawls billions of 3D CAD & BIM models from hundreds of manufacturer catalogs for architecture, mechanical and electrical engineering. The platform allows users to search for digital engineering data provided by manufacturers worldwide. 3DfindIT.com reduces search times and increases efficiency in engineering and construction with intuitive search functions:
Parametric Text Search

3D Shape Search

2D Sketch Search

2D Photo Search

Color Search

Feature/Topology Search

Search by Category



The download and use of this CAD data is free of charge. Many catalogs offer 150+ different neutraland native formats such as Autodesk Revit, Autodesk Inventor, SOLIDWORKS, and more!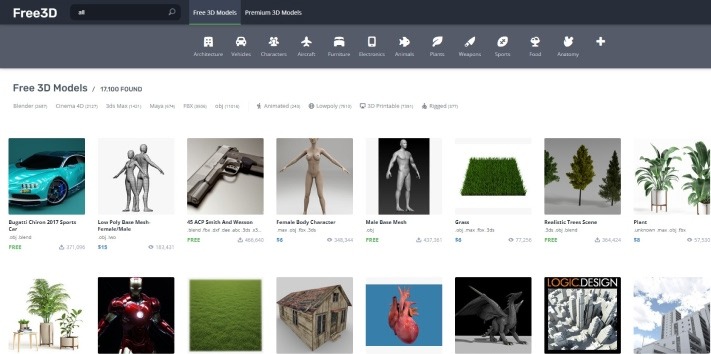 Being one of the smaller repositories, Free3D by TurboSquid has both free and paid models. It offers models created by various 3D software but the downloads aren't in STL format and need to be converted before usage. Multiple language options make for easier navigation and searches. As one of the newer community-focused sites, while also aiming to grow into a marketplace, Free3D has some great potential.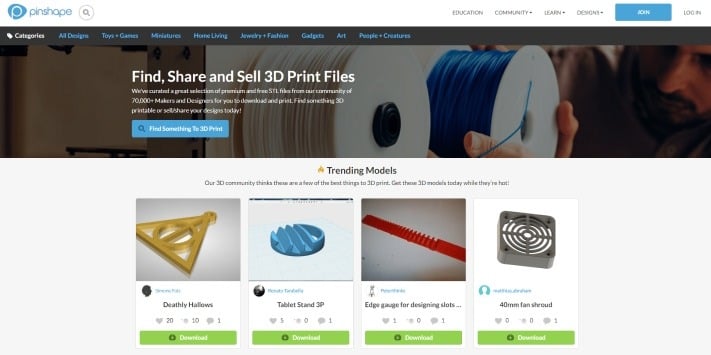 While this is technically a marketplace, Pinshape is a thriving community which make available quirkier models that range from Star Wars-inspired miniatures to jewelry. The free models are displayed along with clearly-marked paid pieces, so you can easily distinguish them or you can simply spend hours browsing and admiring the creativity which went into all these pieces.
This United States government agency for biomedical and public health research offers scientifically accurate or medically applicable models for download. The STL file collections include face shields and low-cost prosthetics, plus models of various human organs for education and research purposes. Especially interesting are the DNA molecules and virus models, so you can get a closer look at these microscopic objects.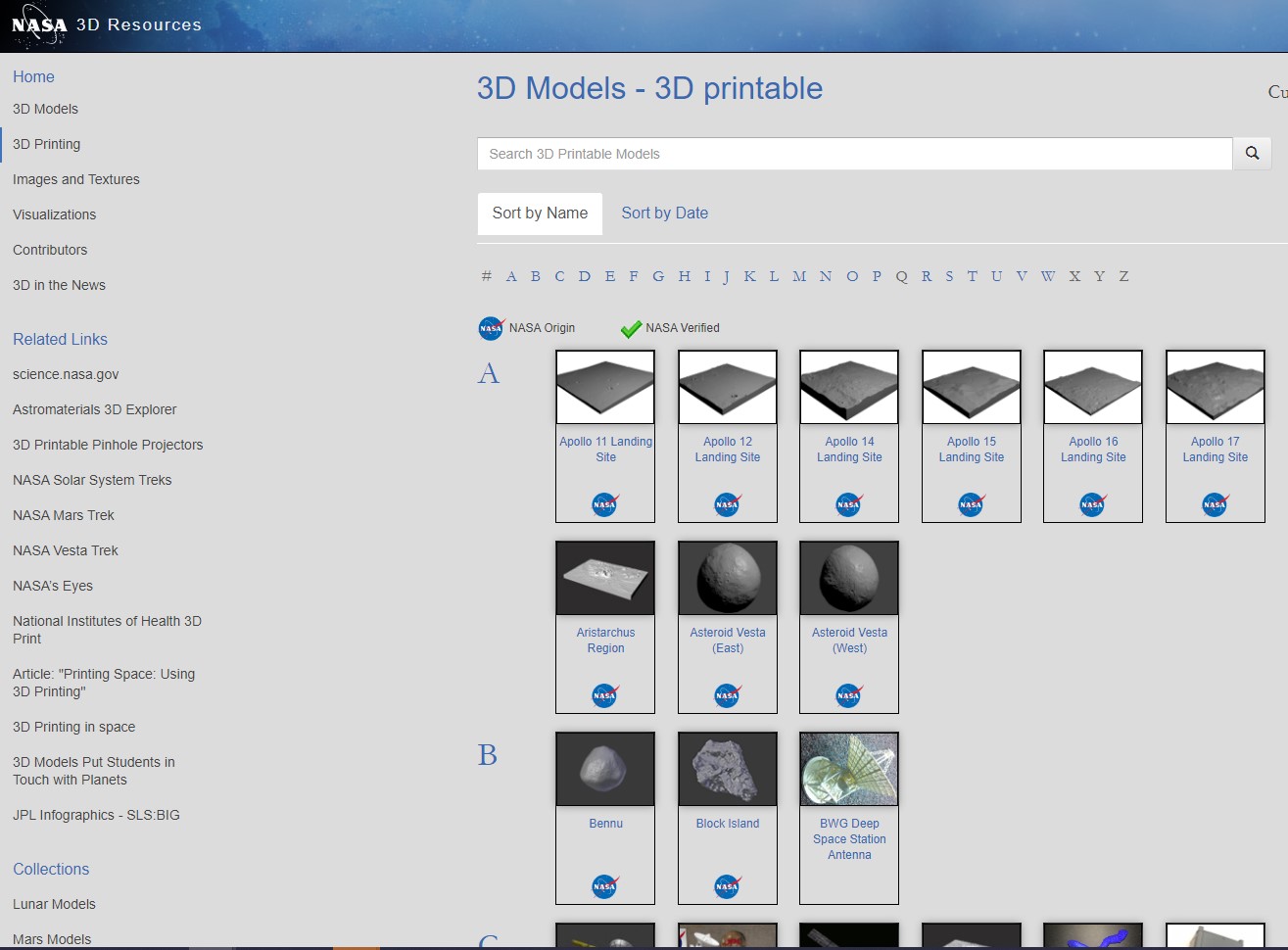 While this site may have the least number of 3D models available, it more than makes up in quality as STL files made available for free lets you fabricate landmark objects in the history of space exploration – like the Apollo 11 landing site, the Curiosity Rover or the Hubble Space Telescope. What makes this site really cool is that you also get to download models of spacesuits and rockets which had been deployed by America's National Aeronautics and Space Administration.
Endless Possibilities with STL Files
We really appreciate that there are sites like these where you don't have to spend large amounts of money to try out your much-loved hobby. Even though not all of these STL files are designed for 3D printers, some editing can make them suitable for your printer.
If you are unsure on the correct method of doing this conversion, we recommend you first do some research on some 3D-printing blogs before you start. It will save you a lot of time as well as money in the end.