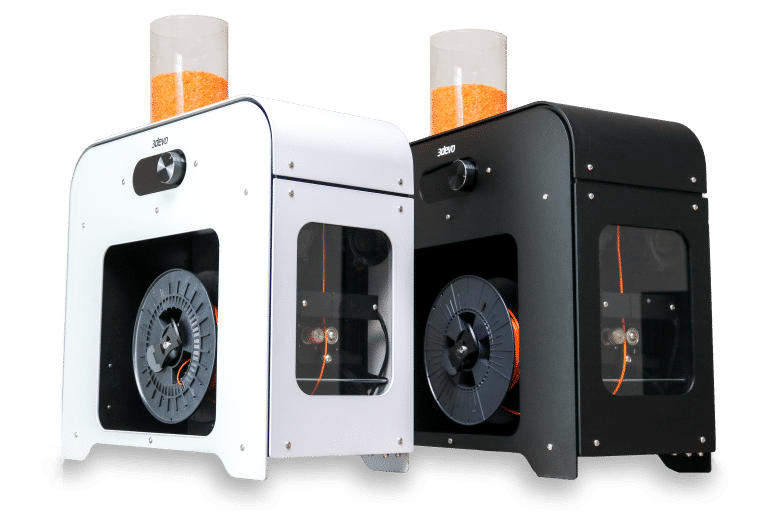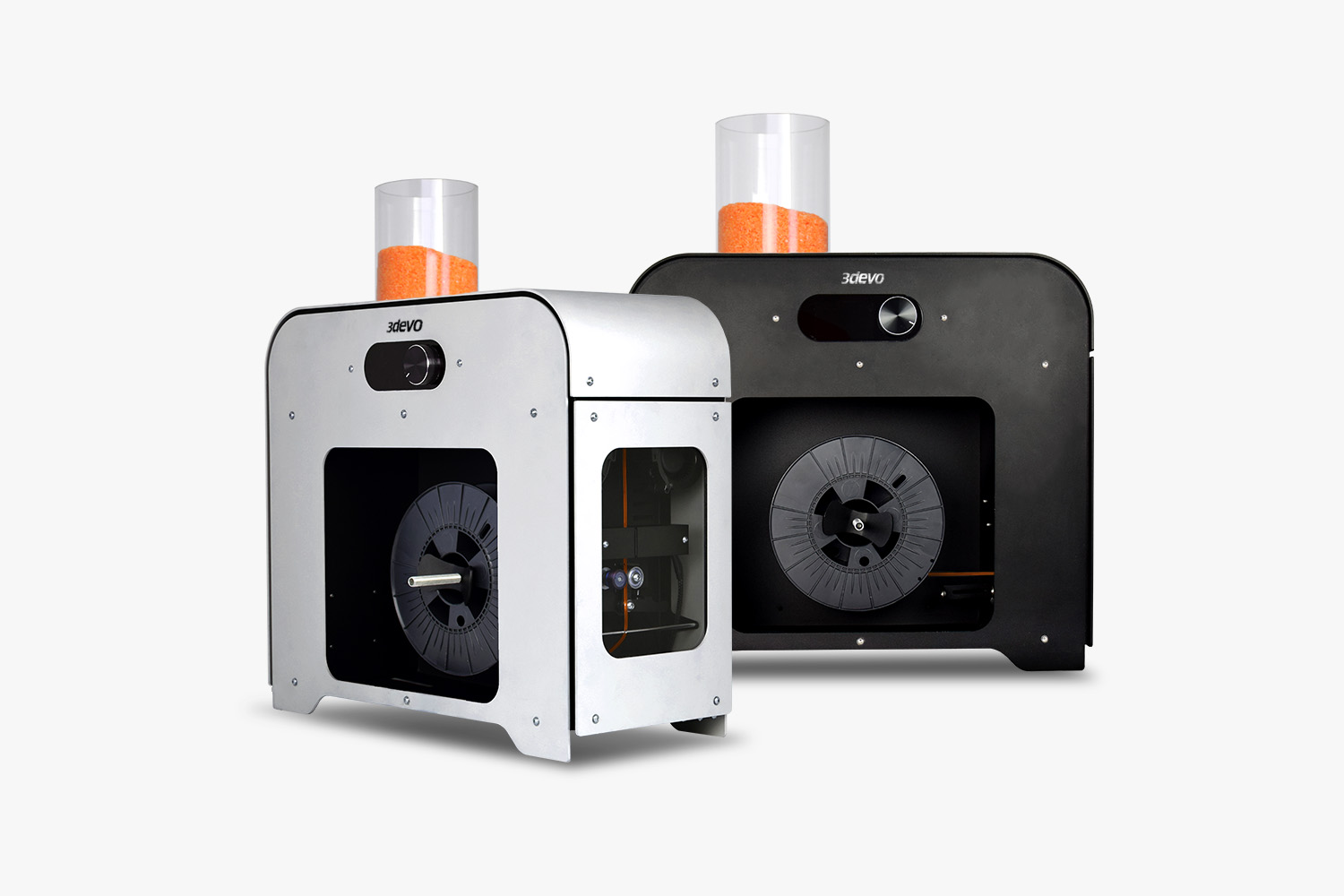 Redefine extrusion with our Filament Extruders
What if we tell you 3D printing can be even more inventive and beneficial?! We have the perfect match for your 3D printer. Our Composer & Precision Filament Makers have everything you need to create your own 3D printing filament – right at your desk. These latest filament extruders make working with materials simpler than ever, offering even more possibilities in manufacturing and innovation. Stop using defective printing materials and trashing your old or failed prints and start using them to bring new ideas to life!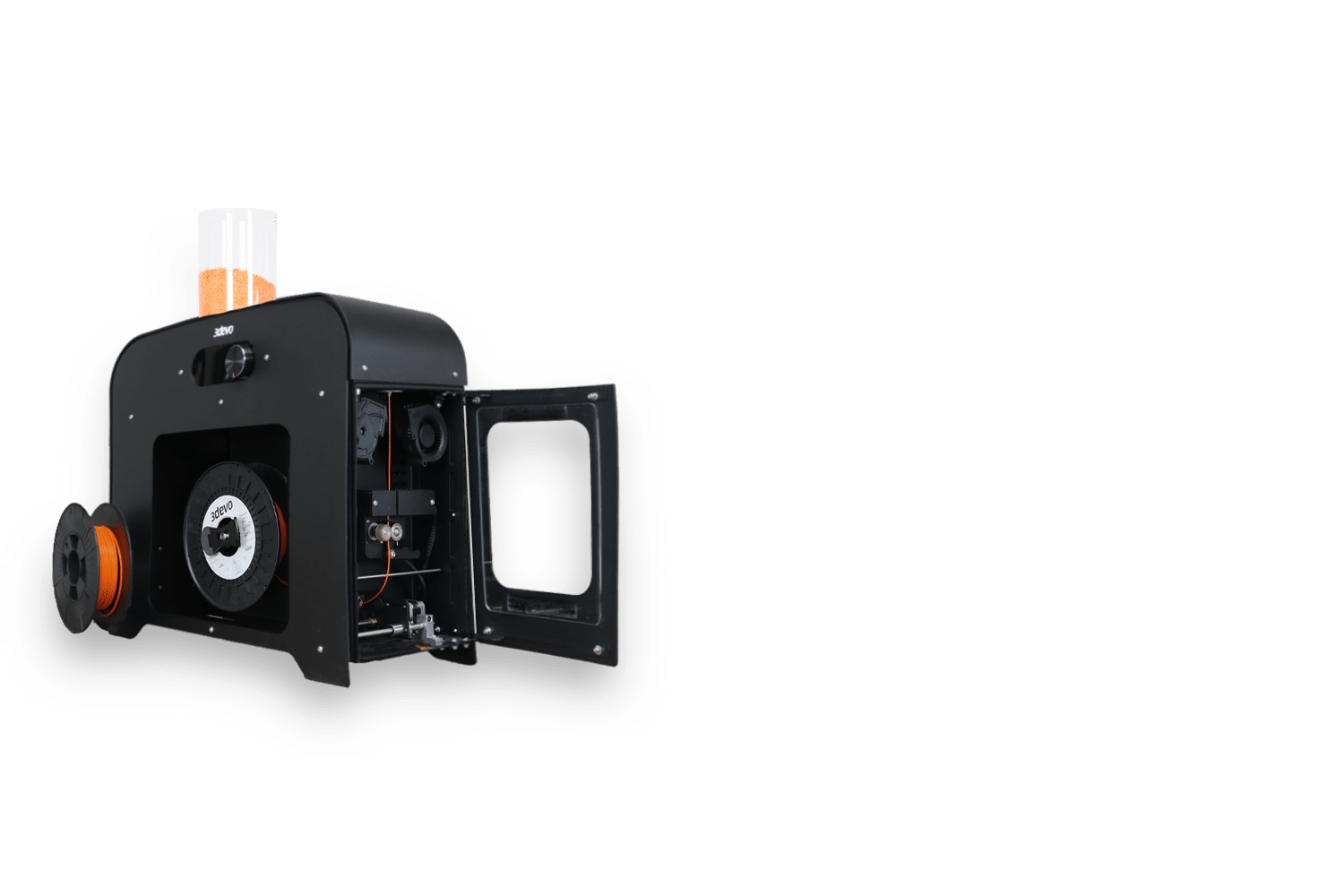 3D Printing Filament Made Simple
Are you ready to take 3D printing to another level? We offer a complete filament production line. Packed into one compact machine. With high quality durable and versatile components. All you need to do is insert plastic pallets, choose your settings through our intuitive interface, easily mount your preferred size spool, and start making your own unlimited custom filament.
Benefits of Filament extruders
Have a hard time grasping the value of filament making? No problem, here are some good reasons to consider making your own 3D filament instead of purchasing the ready-made one.
Customization
Defective filament is super frustrating, can ruin your projects, and occurs too often in our experience. Customization, creating your material with the required properties, can eliminate all these problems. The right filament extruder allows you to control all features of the produced filament. No more thicknesses or thinning, overburnt sections, or cavities, but identically perfect properties. In addition, you can combine different materials in order to get entirely new blends. This offers you even more possibilities in manufacturing and innovation.
Cost
Despite the cost of acquiring a 3D printer has dropped dramatically over the years, device owners will soon realize that 3D printer filament can be rather expensive. A 3D printer extruder is a cost-saving alternative for your 3D printing needs, as it cuts out expensive purchases and deliveries of ready-made filament. They use shredded plastic or pellets, which are much cheaper compared to comparable amounts of filament.
Convenience
With a filament extruder, you don't have to wait days before your filament order arrives. You can create the right amount of 3D filament on-demand. It makes sure you get the best quality without any odd material remains. So, no need for your filament to be stored in improper conditions. You can get started with your exciting new project today.
Sustainability
With a 3D printer filament maker, you can recycle failed prints. So, it will not only save you a sufficient amount of money but also helps convert reusable parts and protects nature from redundant plastic pollution. A big step toward more sustainable 3D printing.
Our Filament Makers are trusted by businesses around the globe







Get your own Filament Factory
We made our filament extruders to streamline the process of material research and development. The machine is perfectly suitable for small batch extrusion in short time frames, and allows you to immediately proceed with material testing and analysis. Are you ready to join the revolution in material development?
Need any help? We are here to answer all your questions. Don't hesitate to contact us.

10x
Reduce filament costs up to 10 fold
500g/hour
Produce filament at rapid speeds
Chat with an extrusion expert
Let's Talk Extrusion & Materials
Do you want to discuss your unique application? Ask one of our extrusion experts today.